At PRISA, we believe that our very business operations play a significant social role in the development of a democratic and sustainable society. As a media and education group, we take our responsibilities seriously, not merely in how we manage our businesses but also through our content and activities, through which we strive to raise awareness and foster the spread of knowledge.
We believe that our relationships with our stakeholders are key to our mission to act responsibly, and our sustainability policy is developed daily through dialogue with them. This policy is structured in three areas of action: through content, through responsible management, and through a wide range of social, cultural and environmental initiatives.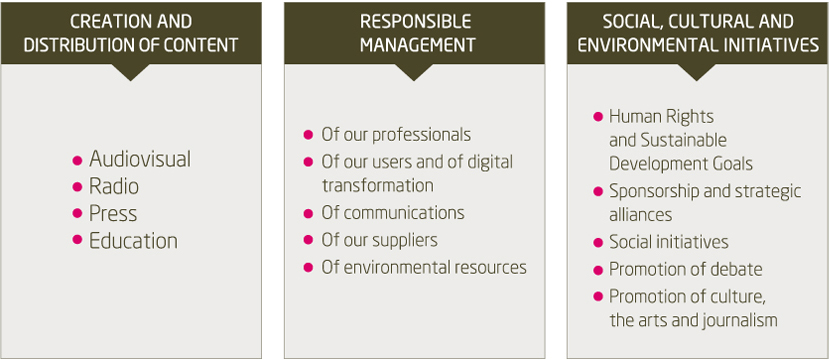 Recognized commitment
PRISA has been included since 2008 on the international index for corporate social responsibility, the FTSE4Good. FTSE4Good measures the efforts of companies to meet globally recognized corporate responsibility standards. PRISA has also signed up to the ten principles of the United Nations Global Compact and has been a member of the Compact's Spanish Network since 2013. The Group is currently a member of Network's Steering Committee. This demonstrates PRISA's commitment to championing ten universally accepted principles in the areas of human rights, the environment and anti-corruption, as promoted by the UN.
PRISA also forms part of the Fundación SERES, a Foundation that promotes corporate engagement and commitment to Advisory Committee. From the very outset, PRISA has sat on its steering committee, from where it contributes actively to the Foundation's programs and initiatives.
In 2015, PRISA was honored with the Latin American Award for Corporate Responsibility, awarded by the Ecumenical Social Forum. PRISA achieved the highest scores in all four areas evaluated by the committee assessing the Group's performance: economic, institutional, environmental and social.