The very nature of PRISA's business activity makes it an important contributor to the development of democratic and sustainable societies. The Group takes this responsibility seriously, not merely in how it manages and conducts its business, but also through all its content and activities, in order to thereby raise awareness, promote and disseminate knowledge.
PRISA's relationship with its stakeholders is key to its exercise of responsibility. Hence, its sustainability strategy is developed and nurtured in constant dialogue with all stakeholders.
This strategy is structured across three areas: the creation and distribution of content, responsible management, and numerous social, cultural and environmental actions.
In each of these areas, PRISA contributes in one way or another to the Sustainable Development Goals (SDGs), which are a global initiative promoted by the United Nations (UN), within the framework of the 2030 Agenda for sustainable development. This initiative seeks to eradicate poverty, protect the planet and guarantee peace and prosperity for all people. The Agenda sets out 17 SDGs, which address issues ranging from hunger and food security to economic growth and climate change.
PRISA is aware of the fundamental role that all companies have in meeting the goals of the 2030 Agenda.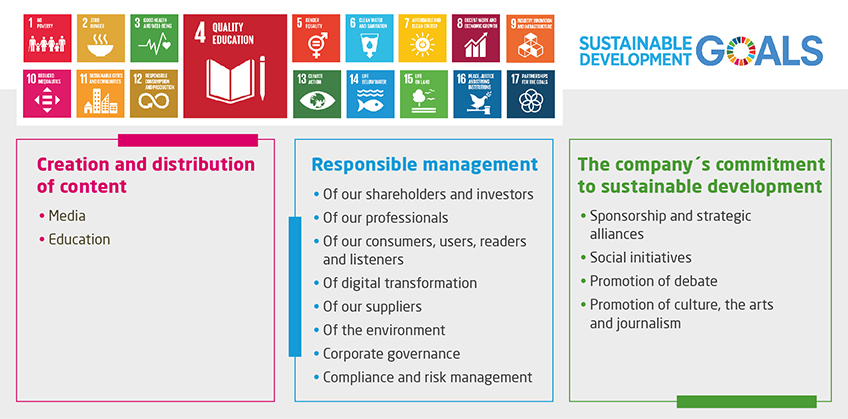 Sustainability Policy
PRISA's Sustainability Policy sets out a frame of reference to ensure that the Group engages responsibly with its main stakeholders.
Recognized commitment
PRISA has signed up to the ten principles of the United Nations Global Compact and has been a member of the Compact's Spanish Network since 2013. The Group is currently a member of Network's Steering Committee. This demonstrates PRISA's commitment to championing ten universally accepted principles in the areas of human rights, the environment and anti-corruption, as promoted by the UN.
PRISA forms part of the Fundación SERES, a Foundation that promotes corporate engagement and commitment to Advisory Committee. PRISA also forms part of the Emergency Committee, which brings together different NGOs and which jointly coordinates public response to humanitarian crises.
In 2015, PRISA was honored with the Latin American Award for Corporate Responsibility, awarded by the Ecumenical Social Forum. PRISA achieved the highest scores in all four areas evaluated by the committee assessing the Group's performance: economic, institutional, environmental and social.