EL PAÍS Semanal and Materia, awarded for their coverage of covid-19 pandemic
21-04-2021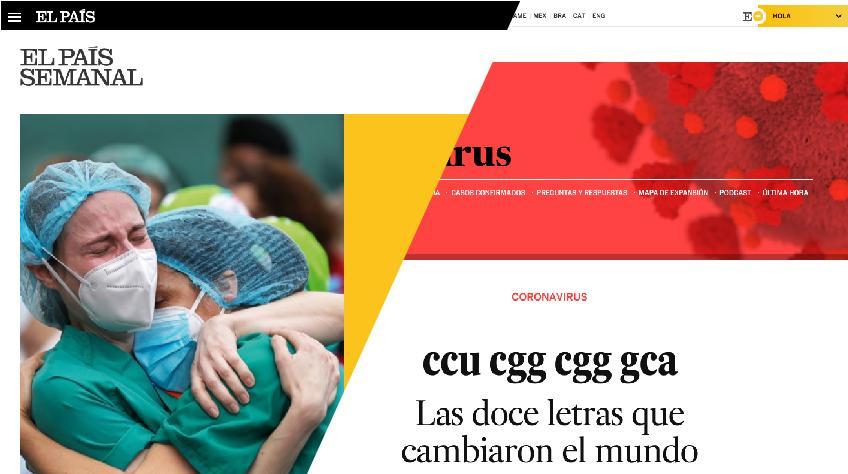 The Association of National Advertisers recognizes the campaign 'Suscríbete a los hechos'
 EL PAÍS deputy editor Álex Grijelmo will receive the Gumersindo de Azcárate award
EL PAÍS Semanal has been awarded by the Society for News Design, an international society that brings together media professionals from more than 50 countries. The special project '2020, un año maldito' has obtained the silver medal. The jury has claimed that "this will feel like a document of the time" and "there's so much covered, but it feels cohesive and it's a really great experience of a print product".
The Roche Institute Foundation, dedicated to Medicine and the pharmaceutical industry, has awarded the article 'ccu cgg cgg gca: The twelve letters that changed the world', published in Materia, in the Written Journalism category. This report deciphers the sequence suspected of being the main culprit of the unusual contagion capacity of the coronavirus. Manuel Ansede, Artur Galocha and Mariano Zafra sign this piece.
The campaign 'Suscríbete a los hechos', developed by the Brand and Advertising department, has been awarded a bronze medal in the Best publishing, entertainment, media & sports category of the Echo Awards, granted by the Association of National Advertisers (ANA). These prestigious awards, created in 1929, recognize strategy, creativity and results among works from more than 20 countries. The campaign, which advertise EL PAÍS's subscription model, advocates good journalism and truthful and verified information.
In addition, the jury of the XI Gumersindo de Azcárate Awards has unanimously agreed to grant this award to Álex Grijelmo. The deputy editor of EL PAÍS and head of the newspaper's Editing Unit has been recognized with this award "for his commitment to professional ethics and the true value of words", as well as for his career at PRISA. The Minister of Justice, Juan Carlos Campo, will present this award to Grijelmo on May 26.