PRISA joins the campaign #NoNosRendiremos in aid of those most affected by COVID-19 in Spain
25-06-2020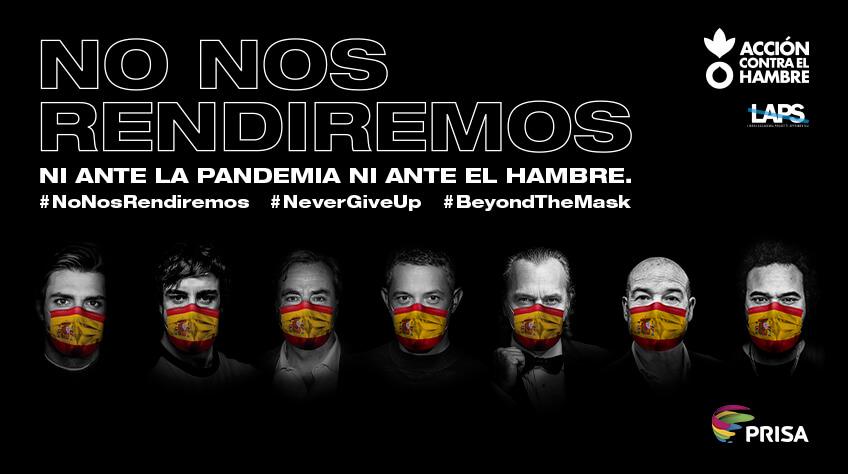 Alejandro Sanz, Antonio Resines, Carlos Jean, Carlos Sainz, Carlos Sainz Jr, Fernando Alonso, Fernando Tejero, Joana Lemos, José Coronado, Quique Dacosta, Miguel Induráin, Niko Shera, Sergio Llull and Susi Díaz have teamed up to support the campaign launched by the

LAPS Foundation

after similar successful initiatives in Italy and Portugal to harness public solidarity with those most affected by the pandemic. Cristiano Ronaldo, Federica Pellegrini, Gianluigi Buffon, Joana Lemos and Paulo Dybala are among the big names to have supported the project.
#NoNosRendiremos (We will not give up) aims to raise funds for the Solidarity Debit Cards program that Acción contra el Hambre / Action Against Hungeris currently running in ten Spanish regions. COVID-19 is expected to leave more than six million people at risk of poverty and has so far led to the loss of 760,000 jobs.
PRISA is throwing its weight behind the campaign, which it will be promoting across all its media, including El País, Cinco Días, AS, El País Semanal, El Huffpost and its social networks. Santander Bank and Vodafone and the Italian agency Independent Ideas are also lending their support to the initiative.
#NoNosRendiremos is also being promoted by leading influencers such as Goya Toledo, Nieves Álvarez, Tamara Falcó, Vicky Martin Berrocal, Eugenia Silva, Raquel Sánchez Silva, Pelayo Díaz, Huecco and Diego Guerrero.
#NoNosRendiremos: We will not give up. That's the message behind the fund-raising campaign being rolled out by Action Against Hunger across Spain for its Solidarity Debit Cards program
The #NoNosRendiremos face mask, in the colors of the flags of those countries worst hit by the pandemic, seeks to do so much more than keeping people healthy and is also aimed at helping those most affected by the financial fallout of the pandemic.
The public can donate to Action Against Hunger programs in Spain through the website www.nonosrendremos.org, by texting the word AYUDA to 28010 or by using the Bizum code 00522. All donations will go directly to Action against Hunger's bank-card program Tarjetas de Ayuda Solidaria to help 5,000 needy families (single-parent or large families, or those who've lost their jobs) by giving them 761 euros per family for two months. It's an innovative way to help and allows families to freely buy food wherever they want – thereby shielding them from the financial impact of the crisis. Training in digital skills is also being made available to help beneficiaries re-enter the labor market, plus sessions on healthy diet.
After the initial launch, the campaign will seek to engage more singers, musicians, athletes and influencers via the Instagram hashtag #NoNosRendiremos.