PRISA revenues grow by 2.6% and EBITDA grows by 3.6%, in constant currency
27-02-2017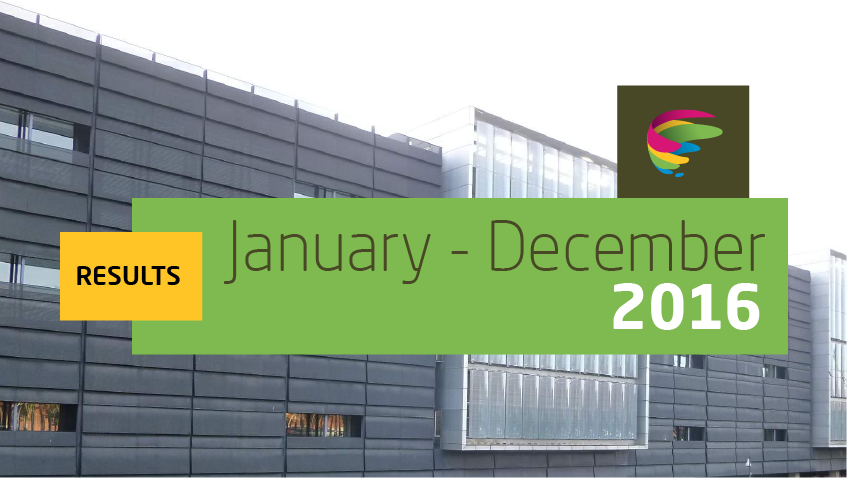 Adjusted EBITDA reaches 299 million euros in constant currency (282 including FX impact)
In Spain, advertising is maintained on the back of Digital growth and events.
Record performance in Santillana with grows in revenues (+5%) and EBITDA (+14%). In LatAm grow +8% in local currency.
Radio shows weakness in LatAm mainly in Colombia.
In Portugal, Media Capital shows operational improvement helped by growth in advertising revenue (+4.1%) and the sale of channels to third parties.
Profit before tax of 49.7 million euros (+207%).
Negative fiscal impact as a result of the new Decree Law related to Corporation Tax launched last December 2016.
The evolution of exchange rates improves in 4Q, impacting negatively across the year on revenues (-63 million euros) and EBITDA (-17.7 million euros).
Net bank debt is reduced by €173Mn in the year and stands at 1,486 million euros as of December 31, 2016. Decline of 23 million euros in financial expenses in the period due to debt reduction.
EDUCATION
Santillana has showed strength in 2016. In LatAm, all main countries campaigns have increased in constant currency except for Mexico on the back of lower institutional sales. Highlights Brazil, which maintains revenues in local currency despite the difficulties in the region, and Peru which grows due to institutional bidding for primary and secondary in 2016.
Spain shows operating improvement despite a small decline in sales explained by less novelties in 2016 compared to previous year.
Digital Education Systems (UNO and Compartir) continue their expansion in Latin America, growing in number of students till reach 867,878. UNO and Compartir revenues grow by +6.9% in constant currency. Significant margin improvement of UNO.
Adjusted revenues in constant currency grow by +5.4% and adjusted EBITDA grows by +13.7% in local currency (+5% in euros).
Negative FX impact of 44.8 million euros on revenues and 15.1 million euros on EBITDA in full year, with a reduction of the negative impact in 4Q as a result of better currencies evolution.
PRESS
Press area grows in digital advertising and events almost compensate the decline of traditional advertising and circulation.
Adjusted EBITDA increases by +2% over the same period last year to reach 16.8 million euros.
Advertising revenues in 2016 increase by +3%.

Digital advertising increases by +15.2% (representing already 41% of total advertising revenues of the press) offsetting the fall in traditional advertising
The events grow in the year until reach €8.5 million.

Circulation revenues moderate their drop (–4.7%) helped by the price raise.
As of December 2016, an average of 88.2 million of unique browsers and 19.9 millions of unique users has been registered (ComScore).
RADIO
According to the latest EGM, PRISA Radio remains the clear leader in both generalist and musical in Spain.
Advertising in PRISA Radio in Spain falls by -3.5% in 2016.
In LatAm, adjusted revenues fall in local currency mainly affected by Colombia which declines by -14.1%, reflection of the macroeconomic and difficulties of the advertising sector faced by the country. Chile closes the year with flat revenues in local currency compared to same period, significantly improving its behavior in the 4T.
Adjusted EBITDA in constant currency falls by 16.8 million euros to reach 58 million mainly explained by LatAm performance and Spain weakness.
Negative FX impact amounts -16.2 million euros on revenues and -3.2 million on EBITDA.
MEDIA CAPITAL
Total advertising revenues of Media Capital increase by +4.1%.
TVI shows a revenue increase of 0.4%. The growth of advertising revenue and channels sale to third parties offset the fall in added value calls:

Advertising grows by +3.6% in TVI.
Added value calls continue with significant falls (–4.5 million euros).
The distribution of TVI channels in different pay platforms has a growth of 2.5 million euros.

Radio increases advertising revenues by 5.8%.
Adjusted EBITDA grows by +2% (+0.8 million euros), versus same period last year, reaching 43 million euros.
CONSOLIDATED P&L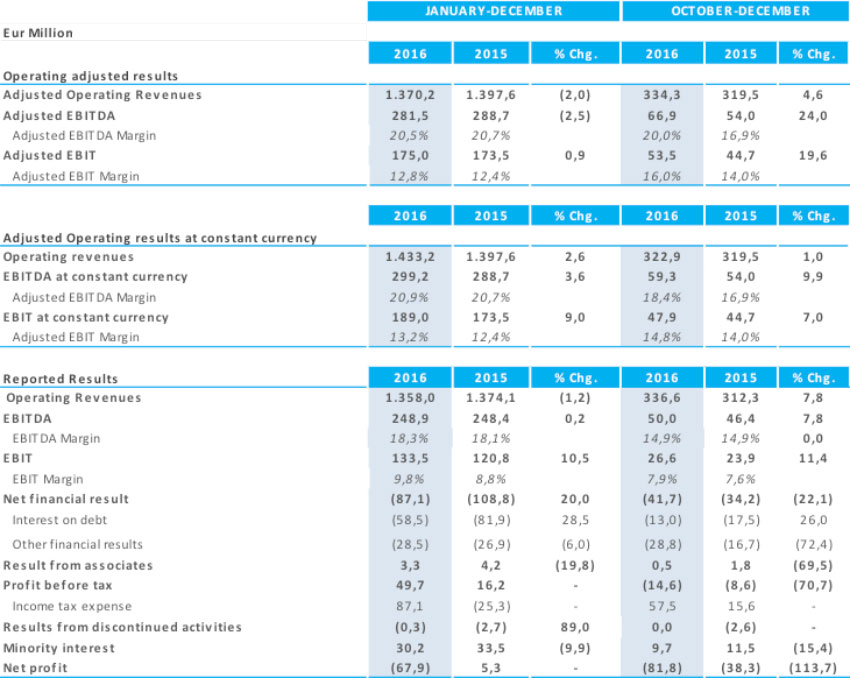 During 2016, excluding extraordinary items and exchange rate impact:
Total operating revenues grow by 2.6%
Adjusted EBITDA grows by 3.6%